The program is work in progress. More details on workshops, lectures, rituals ectr. and a time table will be published in the post-IASC Herald beginning of July.
The cult of the Ubian Matronae (presentation and excursion) – Ulrike Pohl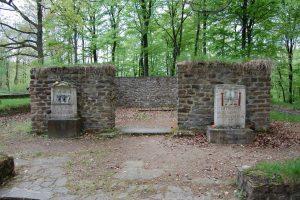 In this presentation and the following excursion we will explore the cult of the Ubian Matronae, which is documented in the region between Aachen, Bonn and Neuss by many hundreds of votive stones dating from the 1st century to the 3rd century CE.
The costs for the transport buses are shared among the participants of the excursion.
Workshop  Bronze Casting – Peter Warholm
Peter's Bronze Casting workshop at IASC 2018 will follow the same concept as at IASC 2009,  2012 and 2015. Instruction will be in English (or Danish). The goal is that you will make your own model /design, cast it and finish it yourself. Either you bring your own model to cast, or make it of plastic modeling clay, or use one of the existing models. Bronze/copper and a limited amount of silver will be supplied at cost. Peter Warholm is available for any questions on FB or sent an e-mail to <Warholm@gmail.com>
Witches on Wyrd Ways – Frigga, Nancy, Annette
The core of this seidr will be: what could we offer the community. An example for this is the spá-ritual, a way for the people to ask questions to the spirits. Community in a sense meaning as well the heathen community as the society we live in at home, in our countries.
Frigga and Annette have practiced heathendom for many years. Nancy joined a few years ago. They each have their own expertise and combine their skill in a modern form of seidr.
Ritual re-enactment of the Voluspá – Amanda and Andre Henriques
'Ritual re-enactment' is the key concept, as it is not about staging a theatrical drama, but actually embodying the essence of the poem by invoking the characters within the performers. We aim to go deeper into the soul of the poem, taking our own souls with it, adding more layers of meaning to the past, the present, and what is yet to come. 'Would you know yet more?'
Amanda and Andre Henriques have practiced Heathenry for many years, and are experienced in ritualistic work within the modern Heathen tradition.
Potato Printing – Pernilla Jørgensen
Pernilla Jørgensen from Denmark invites you to her workhop potato printing: let's use the potatoes for something completely different. We will use them to make beautiful things. It is a workshop everybody can join regardless of age. It's fun to use potato printing for upcycle and recycle. There will be plenty of potato's, some ready to print with lovely designs, but you can also cut your own potato stamp and print a unique piece of art.
The cost for this workshop is 30 euro for printing materials, a bag and to pieces of fabric (size A4). Off course, you can also bring your own fabric and t-shirt. It is also possible to pre-order t-shirts for 20 euro and sweats shirts for 30 euro, both available in the colours nature, green and blue. Please sent an e-mail to: <pjdollerup@hotmail.com >
Flame of Frith – Frigga Asraaf, Nancy Tinkhof, Michiel de Nijs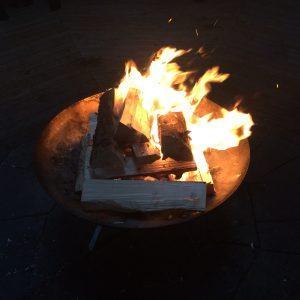 For a lot of participants of IASC the Flame of Frith does not need an introduction anymore. Flame of Frith is synonym for heathens for peace. On monday evening we will perform a community ceremony to combine our power and potential as heathens to weave a web of piece for the world.
Mead Tasting – Miquel Sancho
This  year's mead tasting will be mainly tasting home brewed mead. Bring your own mead and let your fellow heathens know how good your brew of Kvasir's blood is. Of course, it's not about giving away your precious beverage for free. The price for the attendants will be similar to last edition's which will include the cost the mead plus a contribution to the IASC fund for the celebration. So if this is for you, get your brew pitched and join the IASC brewers Facebook group by sending a  to Miquel Sancho <steinnjord@yahoo.dk>
Heathen Karaoke
The party won't be over after the mead tasting! It is a great pleasure to announce the one and only Heathen Karaoke, with not only heathen and drinking songs but a variety of songs for all to enjoy no matter if you sing in or out of tune, individual or in pairs. If you have any suggestion or requirement for songs, please send a mail <to steinnjord@yahoo.dk> and we will do our best for your favourite song to appear in the list. Don't miss this opportunity and join in!
Dynamic Rune Reading and On the Norns – Vincent Ongkowidjojo
The  belgium writer Vincent Ongkowidjojo will offer two workshops: Dynamic Rune Reading and On the Norns. His vision is partly rooted in Western esoteric traditions and partly in Daosim. For a number of years he has been teaching Taiji and given diverse talks and demonstrations on runes. Two of his books are 'Secrets of Asgard, an introduction in esoteric rune wisdom' and 'Doors of Walhalla, an esoteric interpretation  of norse mythology'.
Dynamic Rune Reading endeavours to lift the traditional art of rune divination into the realm of modern day needs and techniques. Different approaches will be demonstrated to increase the interaction with the querent. At the same time a strong emphasis is laid on sensing the energy of the runes rather than merely falling back on an intellectual associative train of thoughts.  Inspiration for all of this is taken from the principles of family constellations work, also called systemic work.
On the Norns: The Norns evoke an image of myth, magic, and last but not least destiny. But who are these beings really? Where do they come from? What were they really about? An in-depth discussion threaded together by the stories that have come down to us will ultimately reveal the identity of the Norns.
Chakra meditation and mantra meditation – Andre Henriques
Andre Henriques has practiced different Hindu teachings and traditions for over 20 years, and has given occasional private workshops on these subjects.
Chakra meditation: In this meditation session there will be exercises to experience different perspectives of what the chakras can be, and explanations on how to develop our inner balance and attunement to ourselves with these techniques.
Mantra Meditation: After some silent mantra meditations, this session will continue with an exploration of different recordings of mantras, from different practitioners, to experience varied ways of how sounds and 'mantric songs' can deepen the spiritual journey.
On a final part, bridges with the heathen tradition will be discussed, and how words and symbols embedded in the Heathen lore can follow similar principles of uplifting us, and deepening our experiences through sound.
Ár nDraíocht Féin Ritual – Robert Lewis
Ár nDraíocht Féin (ADF) is an american druid fellowship. This ritual will be an example of how a blot or sumbel can be performed within the ADF ritual structure.  Everyone will be able to and are encouraged to make offerings to the various beings we will call into the ritual. A short discussion on our ritual format and what to expect will take place prior to the ritual. Rev. Robert Lewis has been a member of ADF since 1999, and a priest since 2008.  Within that time he has held various roles within the organization and has sucessfully started a local congration where he serves as priest.  Currently, he is focusing on spreading inclusive heathenry/asatru and bridging the gap betwen the US, European and other international groups.
Big Wednesday Blot  – coordinator Miquel Sancho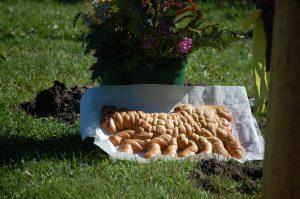 Another favourite traditon of IASC is the Big Wednesday Blot created and performed by participants. Everybody who would like to be part in creating and/ or play a part in the blot is welcome to join the two BWB-meetings.
Excursion to the city of Trier – Daniel
You will be introduced to the general history and founding of the city of Trier and Roman times in the Moselle valley. Roman paganism and the coexistence with Christianity will be addressed.
The costs for the transport buses are shared among the participants of the excursion.
Yggdrasil – in micro-cosmical perspective and Carving runes in wood  – Per Lundburg
Yggdrasil: A lecture and workshop with focus on various parts of the world tree and how this can be applied in life. The three roots and wells have meaning and can be viewed to describe energy-flow in the human system of soul, body and spirit. The structure and parts will be described and applied and then discussion and some practical applications and inner work will be performed.
Carving runes in wood- a hands on experience: Partake in a practical workshop in carving runes with sharp knife on wood. The practical aspect of how to carve, in what direction and angle etc. We will also talk about how runes can be used and combined in bindrunes.
Per Lundberg is gode in Forn Sed Sweden,  Master NLP and hyposis therapist.
Circle of Memory – Nathalie Cue Gomez
A sumbel to honour the ones we of our IASC community we lost.
Nine Worlds in Sound and Song – The Cunning Crone and Heathen DJ Andre
An evening of art, music and dancing in four sessions:
The Cunning Crone Voluspá performance
Contemplative / shamanistic folk
Pagan folk/rock
Late night heathen metal party
IASC Auction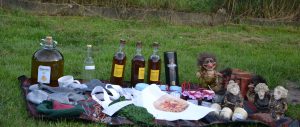 One of the traditions is the IASC Auction to raise money for our heathen summercamp. Please be generous as well in contributions as in bidding high for all lovely items sold at the auction. Both items and services are welcome, such as home made mede, second hand heathen books, a rune reading, art, jewelery and more.
Heathen Movie: " The wikker man" – Peter Warholm
both the 'original' from 1973 and the Holywood cover with Nicolas Cage from 2006.
Market – Exhibition
From sunday to friday each day traders, craftspeople and artists show and or sell their arts, crafts, books, jewellery and more.